Moderators: Forum Moderator, Current Officers, Previous Officers
Cone Top

Posts: 128
Joined: Sun Sep 30, 2018 1:53 pm
Rusty Bunch Member Number: 0
Year Started Collecting: 1998
Has thanked: 79 times
Been thanked: 18 times
Status: Offline
How long has this been out?
---
Grand Marshall of Rust

Posts: 1600
Joined: Fri Aug 25, 2006 10:47 pm
Rusty Bunch Member Number: 3
BCCA Number: 15082
eBay name: beercanpete
Year Started Collecting: 1973
Location: Eastern CT
Been thanked: 21 times
Zodiac:
Status: Offline
It's actually been out quite awhile. Excel datestamps everything in my collection file automatically, and I added one of those to my collection just about exactly five years ago.
---
Grand Marshall of Rust

Posts: 1283
Joined: Mon Jan 07, 2013 8:19 am
Rusty Bunch Member Number: 1128
BCCA Number: 12484
Has thanked: 456 times
Been thanked: 132 times
Status: Offline
There's obviously an affinity for lawn mowers. Checking the Current Cans Supplement, I found six. The year in the name is when it was added to the database.
(
MI-Cans
)
Click to enlarge.
Remember...Recycling is

FOREVER!!
---
Rust Governor

Posts: 2082
Joined: Wed Aug 16, 2006 8:03 pm
Rusty Bunch Member Number: 547
BCCA Number: 13056
eBay name: redsfan323
Year Started Collecting: 1976
Location: Northern VA/Washington, DC
Has thanked: 26 times
Been thanked: 16 times
Zodiac:
Contact:
Status: Offline
Dogfish Head has one too, but not in cans AFAIK. MarkB
---
Grand Marshall of Rust

Posts: 1051
Joined: Mon Jul 02, 2012 4:08 am
Rusty Bunch Member Number: 1037
BCCA Number: 34154
eBay name: Jinsequa
Year Started Collecting: 1975
Location: Independence, Oregon
Has thanked: 3 times
Been thanked: 26 times
Zodiac:
Status: Offline
There are 4 versions of Lawnmower Lager and I believe a 5th just came out that I haven't picked up yet. All have different Crown canning codes. I may have extras of all of them that I can find for you in my garage stock but won''t be able to dig for them until later in June. Let me know if you do want me to pull them for you. The versions all have the same basic label but they radically change the colors of various parts of the label like the hops, fire, background, etc. when they brew up a new batch.

Eric Palmer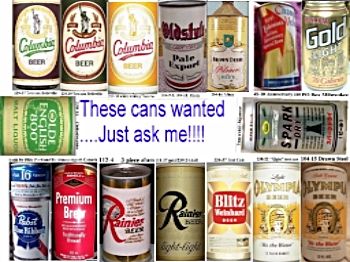 ---