Moderators: Forum Moderator, Current Officers, Previous Officers
---
Grand Marshall of Rust

Posts: 1160
Joined: Mon Jan 07, 2013 8:19 am
Rusty Bunch Member Number: 1128
BCCA Number: 12484
Has thanked: 121 times
Been thanked: 42 times
Status: Offline
I want my beer to taste like beer!

If I want lemon or lime to drink, I'll get a lemonade or lime something or other. But that's what it's come to. I think that all these flavored alcoholic beverages are intended more so as to attract the female of the species that might not enjoy the taste of real beer. Face it. Everyone has different tastes. It's all about marketing.

A quick check of BCCA Volume III shows more that 1,600 flavored brews. The column on the left shows the word I searched for and the column on the right shows the number of brands it found that used that word in the name of their beverage.

We can always blame this trend on the early propagators of the current trend (2nd picture).

(MI-Cans)

Click to enlarge.
Remember...Recycling is

FOREVER!!
---
Grand Marshall of Rust

Posts: 1001
Joined: Mon Jul 02, 2012 4:08 am
Rusty Bunch Member Number: 1037
BCCA Number: 34154
eBay name: Jinsequa
Year Started Collecting: 1975
Location: Independence, Oregon
Been thanked: 12 times
Zodiac:
Status: Offline
Yep.....I actually tried one. It was not bad as far as a Radler beer goes. Great for a beer on a 100 degree day while mowing the lawn.
Bought one for my Rainier Collection and since the micro-type beers tend to explode had to empty it and let the wife drink it. I would probably drink it over the regular Rainier Beer.
I think this comes out of their test brewing they have been doing in Washington state (they released a Pale a while back to)
Eric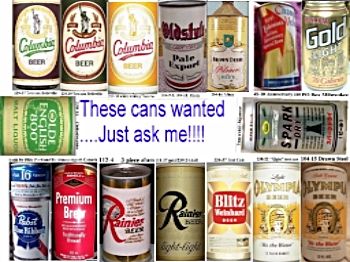 ---