Hi all. Here are my cans. New ones on top.
I also like to trade and have other totes of tougher cans for trade. I collect all sizes and shapes through about 1970 or so for the following: Ohio, Kentucky, Virginia, Maryland, & DC. I also collect Sterling, Drewry sets, Rainier Jubilee Cartoon series, and Primo. (always looking for aluminum variations!!!) There are 2 Senate cans I still need, and the brown Sterling Ale, plus the Sterling Ale gallon! And then there's that damn Primo aluminum test can that Schlitz apparently tried out. If you have one of these the trade, let's talk!
There are also some micros I look for: DC Brau, Warped Wing, Dayton Beer Co, Yellow Springs, and Jackie O's. For these I generally need some of the short-issue collaboration beers and special releases.
I also collect cans from anywhere in the World with a Halloween theme (almost always Jack O'Lanterns).
Finally, I like straight steel Japanese cans and cans from the USSR.
MarkB
QUARTS
F&S: $80
Esslinger yellow Beer: $70
Old Dutch Ale $40
Old Dutch Beer: $5
Croft lemonheads: $100
Rams Head Ale (conetop): $50
Valley Forge flattop: $75
Rams Head Ale flattop: $ 60
rough red Esslinger s, $5.00 each
Ballantine Beer Product List: $50
Ballantine Beer: 1840-1940 $30
Ballantine Ale Handy Way $40
Cones
Gretz Beer crowntainer: $90
Gretz Ale crowntainer: $75
Gretz beer conetop: $70
Kochs L171-22 $150
F&S $25
Essinger Beer $30
Stegmaiers Ale: $40
National Bohemian LoPro: $40
Iroquois OD: $125
Schmidts OD: $150
Gunthers Beer: $90
These cones: $40 each
(Silver Richbrau gone)
These flats: $30 each
The Lions and the Scotch Ale are OIs
Lions on hold
MB set cans on hold
These flats priced as so:
Mitchells $70
Pacific $50
Queens Brau $50
Mitchells (Harry in Loop) $75
Lion GREATER NEW YORK: $125 (on hold)
Lion Beer, offgrade indoor $125 (on hold)
These cans: TRADE ONLY. Sorry. See the top of this post for what I collect. But if you have the rare Primo or Senates I need let's make a deal!!!!!
========================================================================================================
The following items were posted for the first show, but lots left!!
Cans in this tote are either $15 or $20 each plus postage
Cans in these totes: $10 each plus postage
Cans in these totes: $5.00 each plus postage
Soda Cans: $1.00 each plus postage/ Volume rates available!
Duquesne Sign
$
20
15 plus postage
SOLD
Wiedemann Sign
$
40
35 plus postage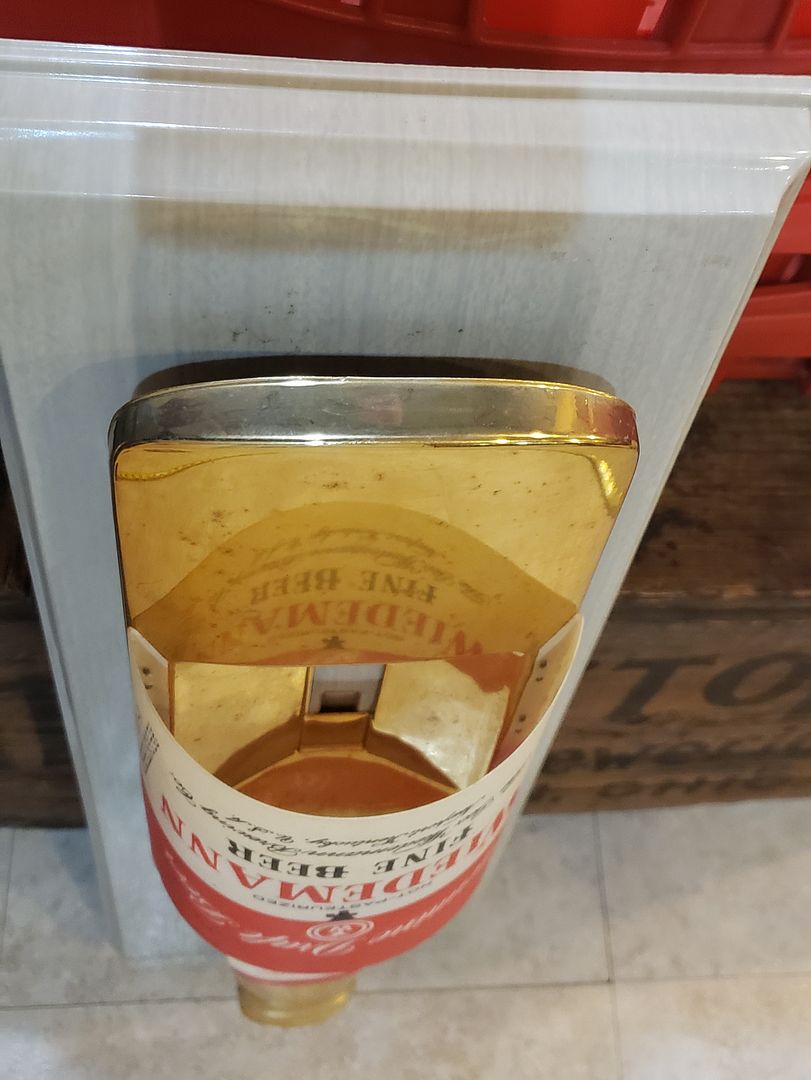 National Ashtray
$
25
20 plus postage